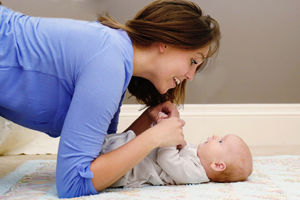 If you are looking for a nanny position in Austin, Chicago, Dallas, Fort Worth, Houston, or Vail/Beaver Creek, please click here.
When you are searching for a nanny job, Mom's Best Friend is your trusted partner. This isn't simply about finding a job – it's about getting to know each other, learning about your strengths, experience and talents, and carefully matching you with the right family. Our goal is to place warm, professional, proactive nannies in a wonderful long-term position.
Nanny Job Duties: 

We place screened, highly experienced, professional caregivers, trained in the most progressive aspects of child care. Our nannies know how to design and implement daily curriculum, monitor child's development, plan entertaining games, arts and crafts projects, and activities to stimulate a child's learning, imagination, and development. The focus of the nanny is on the children, with duties relating specifically to their care. We require an experienced, loving caregiver that can be hired by a private family to care for the family's children, either on a live-in or live-out basis. In addition to nanny experience, great nannies often begin as teachers, day care employees, child development majors, babysitters, camp counselors, church nursery workers, and/or lifeguards or swim instructors. Our nannies may also have a college education, child-development continuing education hours, and/or teaching experience.

Nanny Manager Job Duties: 

Some of our families look for a nanny to fulfill household administration duties above and beyond a nanny's basic child care responsibilities. As a nanny manager, you may be asked (along with nanny responsibilities noted above) to organize extracurricular activities, transport children, tutor, run errands, grocery shop, provide mature supervision and security while traveling, and/or prepare a basic evening meal following the family's favorite recipes. A nanny job with a management component often requires a minimum of a bachelor's degree.

Child Educator Duties: 

From time to time, families will request a child educator, a dedicated instructor who prefers the learning experience that a private, in-home education offers over teaching a large class of students. As a child educator, your goal is for your charge to achieve academic success, in addition to the duties a nanny manager performs. Child educators are mature and nurturing, providing hands-on instruction for their charges through curriculum, special projects and practical learning experiences. You may facilitate field trips where the children will have one-on-one exposure to museums, art exhibits, science and math related excursions, and a variety of other applied learning experiences. Child educators have a minimum of a bachelor's degree, teaching credential (and/or early childhood education specialty or related experience), and instructional experience.
For more information about MBF Agency, click on one of the links below: