Housekeeper Jobs & Duties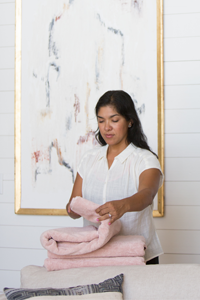 Are you a detail-oriented housekeeper with consistent in-home experience? We want to help you find a job!
Our families are always in search of excellent, experienced housekeepers, and we want to help you get placed! If you have experience working with individual families (especially in large homes), we would love to meet you!
There is never a charge for job placement, and we also encourage you to think of experienced housekeeper friends and colleagues, because we pay YOU for referral bonuses!
We are looking for enthusiastic, "can do", and experienced housekeepers who take action instead of waiting to be told what needs to be done. Our housekeepers perform all duties – ranging from daily maintenance to heavy cleaning, laundry, as well as keeping track of necessary household supplies.  Sometimes the positions will include additional specialized work such as meal preparation, grocery shopping, and more. Housekeeper positions are typically 30 hrs min. per week with a set schedule and pay rate. A housekeeping salary will vary based on the housekeeper job duties and your experience, but will always be very competitive for the industry.
We conduct an in-person interview, check to make sure you have excellent references, and run a background check. We would love for you to join our team! For more information about MBF Agency, click on one of the links below: