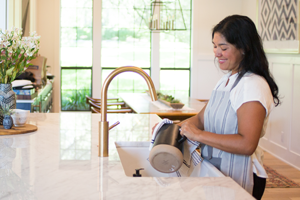 When families are hiring a housekeeper, they choose MBF Household Staffing because we provide responsive customer service, customized matching, and the highest quality screened candidates.
Duties of a Housekeeper
Our housekeepers and executive housekeepers possess a great deal of experience cleaning homes of a large scale, and are familiar with maintenance and care of finer items. MBF Agency staffs highly detailed, proactive housekeepers who execute all housekeeping duties, ranging from daily maintenance to heavy house and domestic cleaning. Housekeepers are hired for a minimum of 30 hours/week, and housekeeper salaries are typically $22-$26 (+ employer portion of payroll taxes)/hour. There are many housekeepers for hire. MBF Household Staffing provides you with peace of mind by having every housekeeper complete a rigorous screening process. You can find more information on pricing, screening, and other services below:
We set the bar high for our staffing selections and our clients appreciate the time savings and excellent candidates. For more information on our hiring process, you can get in touch with us here.
To start your household staffing search, begin a client application.